MKI Legal has been featured in
Applying For Probate In Australia
If your loved one created a Will, you may need to apply for Probate. Generally the executor nominated in the Will applies for Probate to the Court.
How We Can
Help

You

Get Probate
For up to 80% less.
Step 1
Free Discussion with Our Legal Team
Have a chat with our legal team to make sure you're on the right track. We can answer your questions about the process and what to do next.
Step 2
Inform the Court
Next, you need to inform the Court of your intention to apply for a grant at least 14 days before filing your documents. It's part of our service to help you with this step.
Step 3
We Prepare Court Documents
We prepare the documents for you. Our legal team will get all the information from you so your documents are prepared properly.
Step 4
Sign & Lodge
You then get the documents signed and lodged with the Court. We provide full guidance on how to do this. The Court will post the grant to you after it's approved. You can then access the superannuation money, bank funds and real estate etc.
How Do You Apply For Probate?
To apply, you must be over 18 and you need to be nominated as an executor in the Will (including listed as backup executor).
Before you apply, you must advertise your intention to apply through the NSW Online Registry, and this must be done at least 14 days before the actual application. We can help with this step.
What Forms Must You Fill Out?
There are a range of forms required by the Court for getting probate.
Some of the forms you will need include a Death Certificate provided by the Births, Marriages and Deaths Registry, an affidavit, a list of the assets and liabilities of the deceased and other forms depending on your circumstances.
The person who applies is called the "administrator".
Estates Plus provides all the forms you need to get probate.
How Long Does It Take?
Once filed, it usually takes the Registry 5 – 10 working days to process an application for probate. However, more complex cases may take longer.
What Are The Court Fees For Probate?
The Court fees for probate vary depending on the value of the estate.
If the value is under $100,000, then there is NO filing fee.

Between $100,000 and $250,000 – filing fee is $702

Between $250,000 and $500,000 – filing fee is $953

Between $500,000 and $1,000,000 – filing fee is $1460

Between $1,000,000 and $2,000,000 – filing fee is $1946
How Do I Find Out If Probate Has Been Granted In NSW?
Once it has been approved, the NSW Supreme Court will post the documents to you directly.
If there are any issues with the documents you submit to the court, they will ask for further information or clarification. This is called a requisition. Once these requests for further information have been met, the court will post your documents to you. To avoid requisitions, it's important your documents are properly prepared.
What Happens After Probate Is Granted In NSW?
Once probate is granted, it is the executor's responsibility to follow the law to correctly administer the estate.
Among other things, this includes obligations to meet taxation requirements, pay off any debts that the deceased owed and distribute to the beneficiaries according to the Will.
If the executor does not undertake their role in the correct way, they may face legal consequences.
Estates Plus can assist the executor to make sure they meet all their legal duties.
How Much Does An Executor Of A Will Get Paid In NSW?
Payment to the executor for the carrying out of their duties (known as the executor's commission) varies from case to case.
If there is an express clause in the Will allowing the executor the right to be paid, then in most cases, the executor is paid in accordance with the Will.
If there is no specific payment clause in the Will, the executor needs to apply to the Court to get permission to be paid.
The court looks at the time and energy the executor has put into dealing with the estate. The more complex the work, the higher the pay.
The general rule is the executor may be entitled to be paid 1 to 2% of the value of the estate, provided the court grants permission.
Can Costs Be Recovered?
Yes, all the out-of-pocket expenses the executor incurs can be reimbursed from the estate, before anything is paid to the beneficiaries.
This includes the fees to Estates Plus, as well as court filing fees, etc.
If the executor does not undertake their role in the correct way, they may face legal consequences.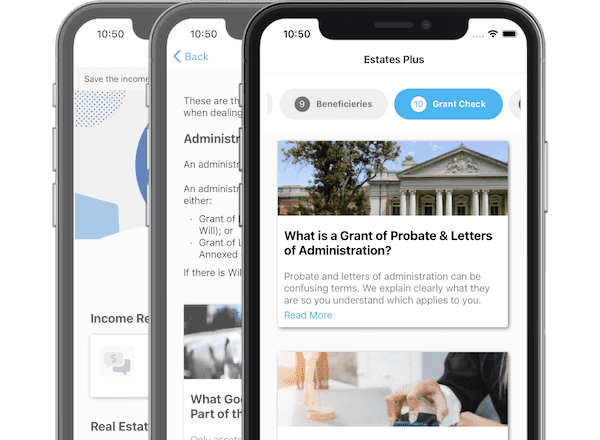 A Free App To Help With Deceased Estates
Download our free app to help you understand what to do after a loved one has died. A step-by-step guide, save estate assets, keep track of expenses and more. Written by expert estate lawyers.
Our
Pricing
Save up to 80% on Legal Fees*.
Free Discussion
Call us today
Free no obligation discussion
Check if you need to apply for Probate
Understand the steps involved
Probate
We prepare it, you lodge it
Executors (or back-up) apply
Standard Probate documents
Documents ready-to-lodge with Court
Step-by-step guide on what to do
Prepared & reviewed by our legal team
The Full Lawyer Service
We do it all for you
Legal guidance before lodgement
Legal guidance with administering the estate (work after grant issued)
Suitable for complex cases
All required documents prepared
We lodge with Court for you
We communicate with beneficiaries & creditors
We make sure you do everything right, to reduce your liability.
We help you until you've finished everything required.
Pay-at-end options available
Not Sure What You Need?
Free Discussion
Our expert team at MKI Legal can assist you with any questions about your loved one's Deceased estate or getting your legal affairs in order before you pass away. Our free no-obligation discussion can help get you make the right decision.
Frequently Asked
Questions
We're here to help you navigate through the loss of a loved one
I want to speak to someone
It's free to chat to our legal team.
Call us on 1300 967 552, start an online chat (by clicking the bottom right hand of screen) or leave your details and we will call you.
How does your money back guarantee work?
We guarantee that your probate documents will be correctly prepared based on the information you provide.
We will give a full money refund should it turn out that Estates Plus is not suitable for your circumstances, provided our documents are not lodged with the court, signed or used in any way.
Estates Plus can have your documents prepared within about 5 business days after getting all the information from you.
Once the documents are lodged with the Court, it usually takes 3 to 6 weeks for the Court to review and approve your documents.
These time frames are estimates and there could be delays depending on how busy the court is and if the court has further questions (called requisitions).
Can document be posted to me ?
Yes. Once you have approved the final version of the documents, we can post them to you (at no further charge).
Yes, once you get the grant documents (e.g probate or letters of administration), you have the right to be reimbursed for your out-of-pocket expenses such as our fees and the court filing fees.